New Article
Excellent piece on Toothprints (April 2006 issue); I've been using them for years!
Jan 1st, 2019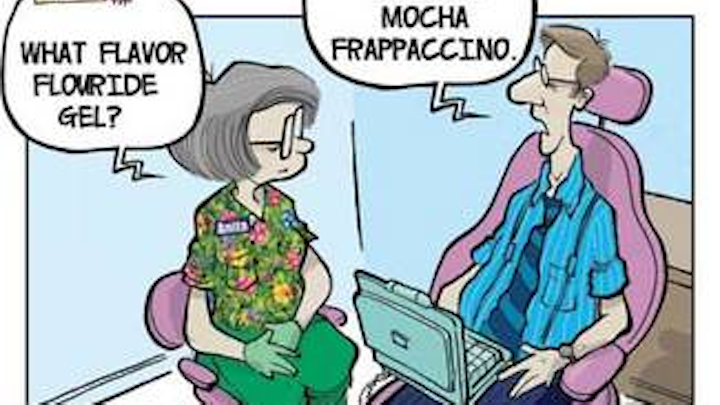 Additional benefits of forensic tool
Dear RDH:
Excellent piece on Toothprints (April 2006 issue); I've been using them for years! I wanted to add to the list of forensic data that Winnie Furnari, RDH, BS, describes in her article. Of course, Toothprints document the unique dental characteristics and jaw relationship of the patient, but also it should be realized that the wafer - once removed from the mouth - will also have the individual's nuclear DNA all over it!
A Toothprint is an ideal DNA sample that can be immediately offered to law enforcement for identification purposes. Hairs from combs and skin cells from toothbrushes are often collected from an abducted child's home environment, but neither will always produce a useable genetic profile, but the loose epithelial cells from the oral mucosa commonly found in saliva are plentiful with nuclear DNA - the preferred cellular source from which to extract genetic identifiers.
A patient of mine who was a law enforcement officer once told me that the salivary scent on the wafer would likely be useable if provided to a scent dog as well. I always instruct my adult patients and parents to never remove their Toothprint from its labeled bag, never to rinse or even touch it - put it away in a cool, dark place and hope they never have to retrieve it.
With wonderful products like Dr. Dave Tesini's Toothprints that so easily and inexpensively provide such a valuable tool to forensic identifications, I cannot understand why all dental practices have not integrated them into routine record keeping. As a hygienist with recognized forensic training, including the Armed Forces Institute of Pathology's training in Forensic Dental IDs, I am very strict in my antemortem record keeping: radiographs, written chart documentation, etc.
I take new Toothprints often on pediatric patients, sometimes every appointment because their dental record changes so fast! An adult with a stable dentition can be "printed" every other year and after notable changes in their dental record - restorative, extraction, trauma, etc. - and I never charge a fee for them. Please note that these are my guidelines created from my own practice experience.
I encourage every reader to research this product, manufactured by SDS Kerr Corporation. Discuss with your team members and your dentist(s) how this simple and valuable record can be added to the standard of care for your clients and their families. Then look into public outreach opportunities for schools and public health facilities, and to volunteer in conjunction with your local law enforcement agencies conducting public education symposiums. Not only are opportunities like these excellent for public relations and practice building, but also you are performing a valuable service for your community!
Thank you RDH magazine for continuing to be an outstanding source of current news, future technology, and relevant information to our profession and industry!
Amber D. Riley-Burns, RDH, BA
Bremerton, Washington
Pleasant memories from 1964
Dear RDH:
I just received the March 2006 issue of RDH and had to let you know that I enjoyed the article titled "1964: It was a good year." The vintage pictures were great! I am a 1964 graduate of the Eastman Dental Dispensary, School for Dental Hygienists in Rochester, N.Y. (The program is now at Monroe Community College.)
Reading this article brought back many memories! I am still working and have found this to be a wonderful profession. I am lucky to work with a great dentist, a compatible staff, and patients who keep the workdays interesting.
Thank you, Cathy Seckman, RDH, for an enjoyable article.
Mary K. Garrepy, RDH
Winthrop, Maine
null
It is about the money
Dear RDH:
On June 1, 2006, I will celebrate my 40th anniversary of my graduation from Columbia University's dental hygiene program. During the past 40 years, I have obtained six different state licenses (all by exam since traveling with a military spouse gives me additional challenges) and have worked in private practice, speciality practices (perio and prosthetics), government positions at both Lackland Air Force Base and Fort Sam Houston in San Antonio (where I was involved in teaching and writing) and have also done some work in private nursing homes. I've been a salaried employee and have worked as a self-employed temp too. It's been a wonderful career, but your April 2006 Editor's Note really struck a nerve.
In my career, I have had the opportunity to work from the East Coast to Hawaii, back to California and now in Texas. I can count on one hand the number of dentists who truly respected my knowledge, background, and experience. I was in most offices to make money for the dentist.
To even begin to try to defend our profession because we might want to earn a better living should be totally unnecessary, period. How many times have dental hygienists worked with lousy equipment while the dentist bought new and better equipment for himself? How many times have we worked without having new products like Arestin in our armamentarium because "it's too expensive?" How many offices provide benefits for part-time hygienists or even pay for some continuing education? Why should dentists do that for us ... after all, we make too much money anyway.
I have watched my profession change very little over the past 40 years. We're still trying to be independent, although that was a dream I never had. Moving around and having a family made dental hygiene a fine field for me, although it was always frustrating to move from one state to another and not be able to work again.
We're still so worried about what dentists will say or do to us. We still have to beg for raises, while always remaining professional. We're still expected to provide excellent care, relate to even the most difficult patient, source dentistry (how that has changed ... all for the financial gains of the dentist), keep good infection control procedures going, "sell" products, and on and on and on.
But should we ask for a raise? I've been lucky for I have had a few bosses who really did enjoy dentistry and enjoyed having a good dental hygienist on the staff. But after 40 years, I sadly say that I am relieved that neither my son or my daughter chose to follow in my footsteps, either in dentistry (my father was a practicing dentist for 64 years) or in dental hygiene.
Why even discuss why we'd like to be independent ... and if the only reason is money ... so what? The only reason the dental associations and their members fight so hard to keep us under control is summed up in one word: money.
Until the profession of dental hygiene can regulate itself and practice independently, there will be very little progress. Does anyone see any similarities between our field and nursing? The nursing profession went on strike years ago and has simplified the licensing procedures and requirements and pay situation quite nicely. So tell me, are we more dangerous to our patients than a nurse? Amazing, isn't it?
Judith Pearl, RDH, BS
Columbia University, 1966
---
2007 dates
Last month, more than 300 dental assistants attended Professional Dental Assisting 2006 in Indianapolis. The conference, which is modeled after RDH magazine's Under One Roof Conference, will return to Indianapolis next year on May 10-12, 2007.
Information about Professional Dental Assisting 2007 is available at www.professionaldentalassisting.com.
In 2007, the RDH Under One Roof conference will be hosted on Aug. 2-4, 2007, at the Omni Shoreham Hotel in Washington, D.C.
null