Product Report
Bosworth recently introduced the Bosworth Air Polisher, which connects to most quick connect couplings ...
May 1st, 2011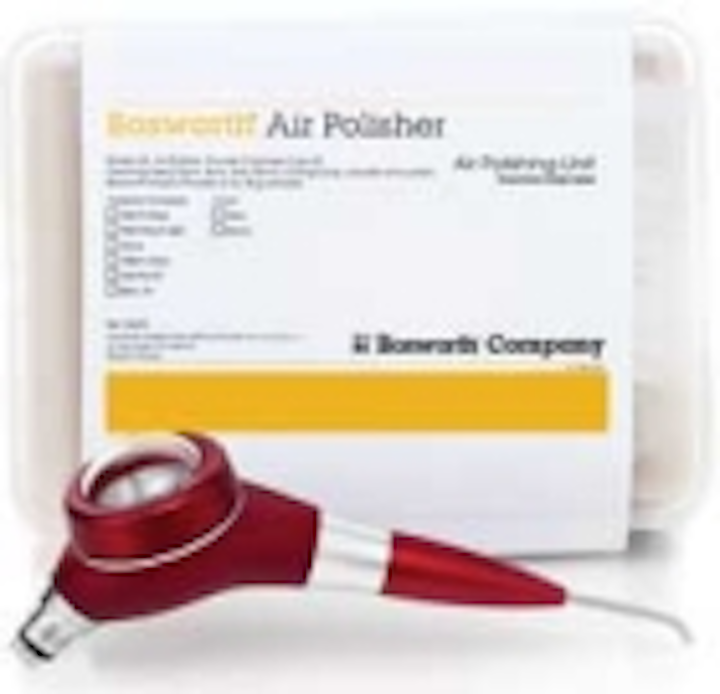 Bosworth introduces air polisher
Bosworth recently introduced the Bosworth Air Polisher, which connects to most quick connect couplings, and delivers a fine sodium bicarbonate and water spray for easy removal of plaque and stains. The nozzle is autoclavable, and it rotates 360 degrees. The powder chamber capacity is 13 g. In addition to the Air Polisher, Bosworth carries a complete line of products that complement the unit, including Bosworth Prophy Powder, High Volume Oral Evacuators, and TC Retractors. Contact (800) 323-4352 or visit www.bosworth.com
Philips Sonicare AirFloss targets improved flossing compliance
Philips Sonicare recently introduced the AirFloss, which features a patent-pending Microburst technology combining air and micro-water droplets (less than one teaspoon of water per cleaning) to remove plaque in between teeth. The device can be used with one hand and is operated through one button. A guidance tip helps the patient target the area in between teeth, and a cleaning is completed in 60 seconds. Visit www.sonicare.com/dp

PeelVue+ sterilization pouches feature closure validators
DUX Dental recently announced that PeelVue+ pouches now feature visual guides printed on the pouch called closure validators. PeelVue provides dental professionals with a visual guide to achieve the proper seal. Pouches that are not sealed properly have holes or gaps where contamination can seep in, defeating the purpose of the packaging. Visit www.duxdental.com or call (800) 833-8267
Fluoride varnish does not interfere with bleaching
VOCO's Profluorid L, a 5% sodium fluoride liquid varnish with calcium deposits, has a synthetic resin matrix that ensures that the material will not interfere with bleaching results and can be used as an immediate effective paint-on desensitizer before, during, and after bleaching procedures. Therefore, Profluorid L comes in a liquid form and is extra thin and transparent for application. Profluorid L is available in single dose and economic bottle delivery systems. Call (888) 658-2584 or visit www.vocoamerica.com
Scenic posters amuse patients during appointments
SmileScapesUSA's collection of 12 posters include "hidden" images of dental items to engage patient during appointments. The dental images are hidden in scenic views that include the Eiffel Tower, the Taj Mahal, Grand Canyon or Yosemite. Each poster was chosen specifically for both esthetic appeal and calming influence. The company was started by a dental hygienist. Visit www.smilescapesusa.com
Xlear announces Spry Sponge Floss with Xylitol
Xlear, Inc., recently introduced Spry Sponge Floss with Xylitol. The patented dental floss consists of multiple spongy strands of expanded nylon fibers that contain xylitol, an all natural sweetener that provides oral health benefits. Visit www.sprydental.com
Tru-Align Laser Aiming Device
Interactive Diagnostic Imaging's new internal LED laser ensures perfect alignment by eliminating cone cuts associated with rectangular collimation. The device Installs in seconds on most round cones, improves film, sensor, or phosphor plate images, and reduces radiation exposure by 60%. Become compliant with NCRP guidelines by using Tru-Align. Visit www.idixray.com
Schein expands Acclean prophy paste line
Henry Schein recently expanded its offering of Acclean Prophy Paste to include new flavors. Acclean's non-splattering, gluten-free formula contains 1.23% APF. Unit-dose cups are packaged in quantities of 200 per box in your choice of mint, bubble gum, cherry, raspberry, cinnamon, tangerine, vanilla, chocolate, and strawberry in fine, medium, coarse, and extra-coarse varieties. Also available in assorted flavor packs. Call (800) 372-4346 or visit www.henryscheindental.com
Opalescence launches Oh!
Ultradent's Opalescence Oh! features disposable, unit-dose bulbs that take the guesswork out of the application process. After removing the bulb's cap, the gel fills a single custom whitening tray, avoiding waste or mess. The gel contains the Opalescence patented potassium nitrate and fluoride formula for increased enamel strength, minimized sensitivity, and reduced risk of caries. Opalescence Oh! is available in 10%, 15%, 20%, and 35% carbamide peroxide options in mint, melon, and regular flavors. Visit www.opalescence.com or call (800) 552-5512