New Products
Monarch Lines is available in a 500 mL bottle and can treat a single operatory for up to several months.
Oct 11th, 2013

At the ADA Annual session

Booth #1719
Monarch Lines is available in a 500 mL bottle and can treat a single operatory for up to several months. The solution is ready to use--no mixing or diluting necessary. Monarch can be used with all dental units. It is designed for weekly lines cleaning of independent water bottle systems. It helps protect lines and equipment from deposits such as minerals or lime scales, hard water, and salt.
Can be used during continuous procedures such as hygiene scaling.
Completely biodegradable.
Fresh, minty scent.
Glycerin-free formula will not affect bond strength.
FDA cleared as Class I Medical Device.
www.airtechniques.com/products/monarch-lines.html

Booth #1756
Washable Dental Calming Blanket
"It's just like the lead vest at the dentist, only better" is how people often describe the Calming Blanket. The gentle weight works on the body's own sensory system to produce a feeling of calm and relaxation in three to five minutes. They are so effective, hospitals use them. It is filled with medical grade plastic beads sewn at intervals to provide the weight. The outer cover is a flexible medical fabric that can be wiped down or machine washed. Adult: 32" x 64"; Child: 28" x 52" Visit the Crescent Products booth #1756 to experience!

Consult with your favored dealer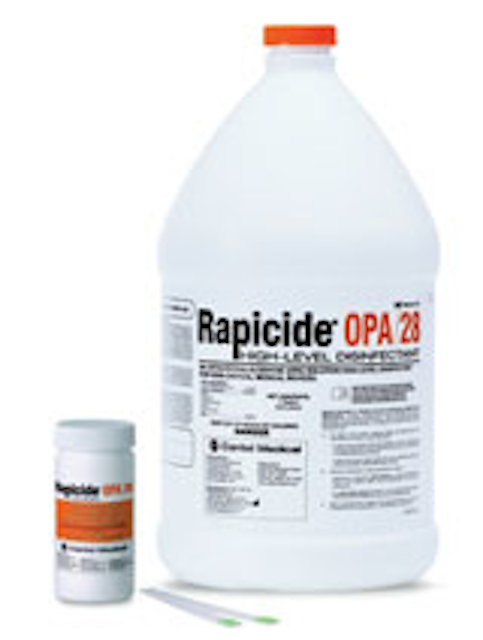 Rapicide® OPA/28 High-Level Disinfectant is the fastest and longest lasting ortho-phthalaldehyde (OPA) on the market today.
This reusable OPA disinfectant is designed for use on heat-sensitive, semi-critical medical devices that are unsuitable for sterilization. RAPICIDE OPA/28 features the fastest disinfection time, twice the reuse period of other OPA brands and guaranteed materials compatibility, which allows for the ultimate combination of safety, convenience and value.
Features of Rapicide® OPA/28
High-Level Disinfection in 5 minutes at 25ºC
10 minutes disinfection time when used at room temperature (20ºC)
Up to 28 day reuse period, twice as long as other OPA brands
Only 2 rinses required when using a MEDIVATORS AER
Effectively inactivates TB, Hepatitis Viruses, MRSA, VRE and HIV
Easy to read Rapicide Test Strips accurately measure the concentration with a 3-second dip time and 90-second test strip read time

Booth #534
American Eagle Instruments is proud to introduce their new 411-412 universal curette. This design features a deep shank angle and narrow blade that is great for posteriors. It is available exclusively in sharpen-free XP Technology™ QuikTip™ cone-sockets. With seven

colored, lightweight resin handles to choose from, all 3/8" thick, you can personalize the 411-412 with your favorite color and rest assured that it will be comfortable, as the wider handle diameter allows for a less aggressive grip. To learn more about the 411-412 XP QuikTips and all our instruments, please visit www.am-eagle.com or visit us at ADA Booth #534.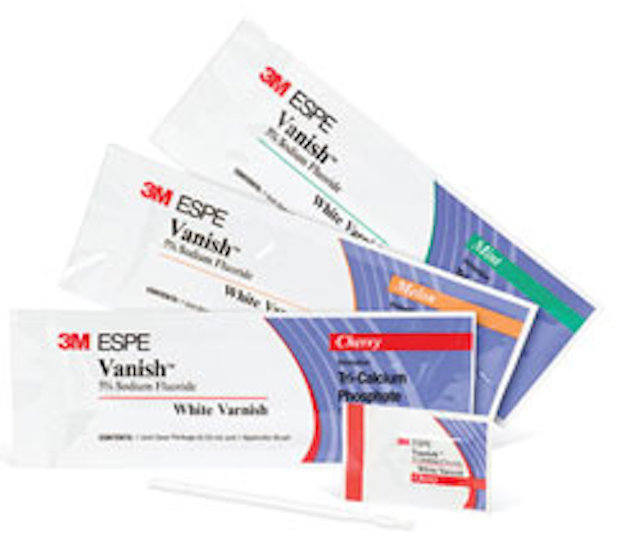 Booth #3101
Don't be misled! Unlike varnishes that quickly release their fluoride, 3M™ ESPE™ Vanish™ 5% Sodium Fluoride White Varnish with Tri-Calcium Phosphate (TCP) provides a prolonged, steady fluoride delivery, enhancing absorption into the tooth, giving the protection you expect. Now available in an easy-to-open varnish packet! To learn more visit www.3mespe.com/vanish

Booth #1227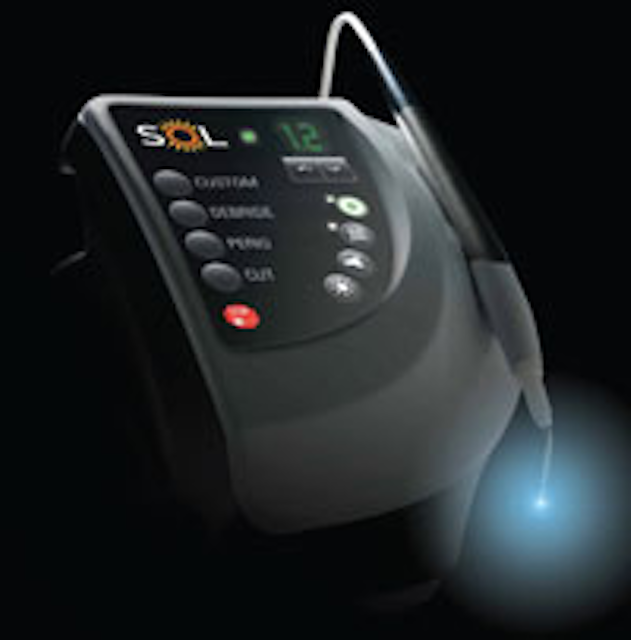 DenMat's SOL™ Diode Laser provides the essential features you need in a laser, at a fraction of the typical price. This latest innovation from DenMat delivers portability, power, precision, enhanced ergonomics, a user-friendly interface, and a high-contrast aiming beam designed to make laser dentistry incredibly easy. Whether you're upgrading your arsenal, arming your hygiene team, or considering your first laser, look no further than the highly affordable and easy-to-use SOL. For more information, call DenMat at 800-445-0345 or visit www.denmat.com

Booth #2439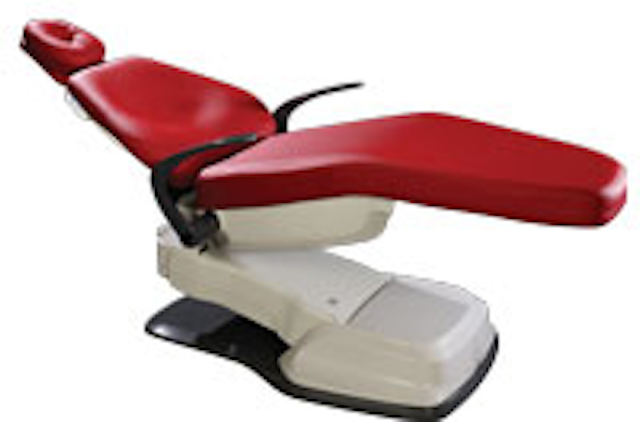 The NuSimplicity™ patient chair features a narrow, tapered back for close patient contact and an exclusive base plate designed for closer stool placement. Dual-location touch pad controls are conveniently located on both sides of the upper backrest. Touchpad controls come standard with the option to add a wireless foot control, unit-mounted touchpad, or remote wireless touchpad.
NuSimplicity is quiet and has smooth hydraulic movements. It has 60° of rotation, and height flexibility from 15 in to 35.5 in to accommodate both sit-down and stand-up dentistry.

Booth #1127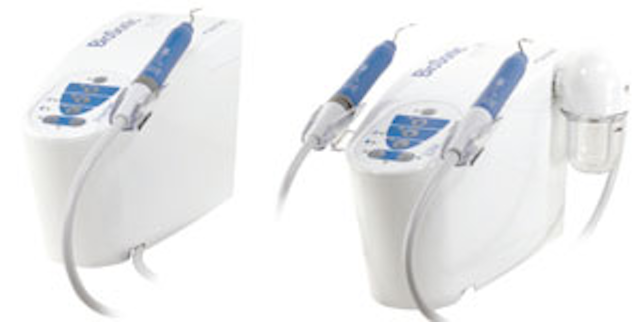 COLTENE®, the fastest growing dental manufacturing company in the U.S., announces the launch of BioSonic® SUVI® piezoelectric ultrasonic scaler and air polisher featuring SUVI Premier and Elite models. The BioSonic SUVI is the ultimate power tool for upgrading any work environment to new levels of quality.
Distinguished ergonomics combined with uniquely designed LED lighting, advanced electronics and long-lasting tips make BioSonic SUVI Piezo devices outstanding for all procedures. The handpiece is removable, autoclavable, and equipped with comfortable silicone sleeves for maximum user efficiency. Water regulation is conveniently embedded in the handpiece. Its foot pedal allows easy adjustment to power levels while leaving hands free for treating the patient.
mybiosonic.com

Booth #113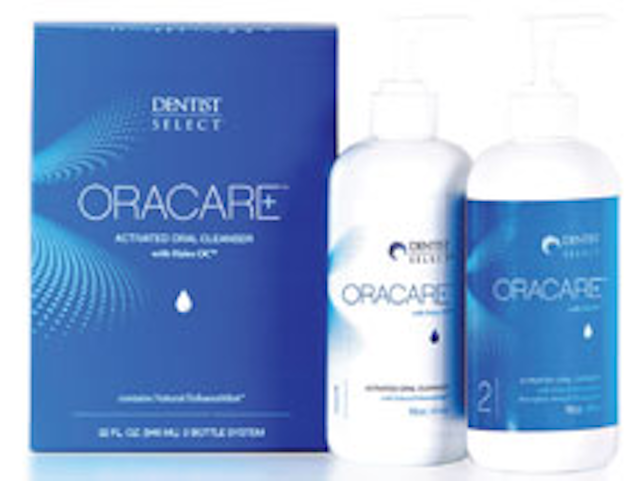 Dentist Select's OraCare™ activated oral cleanser harnesses activated chlorine dioxide (ClO2). Because of activated ClO2's unique properties, OraCare™ has countless uses. This is why OraCare™ is not just an oral rinse; it's also a health rinse. It eliminates the need for multiple products with many in-office and take-home uses. And because Dentist Select products are only sold through dental offices, it's a great way to improve the oral health and overall well-being of your patients.
OraCare kills bacteria and fungi and kills 99-100% of VSCs that cause bad breath. OraCare does not stain teeth and is 99.7% alcohol free. OraCare breaks down unhealthy biofilm. It also tastes great with its all natural flavor.

Booth #653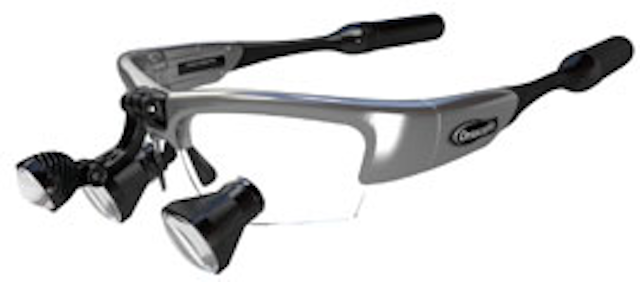 XV1 is the world's first wireless loupe and headlight in one. This brand new innovation seamlessly combines Orascoptic's award-winning loupes with our award-winning headlight, featuring a lightweight and completely cable-less design. By removing the heavy and bulky beltpacks of past headlights, XV1 was ergonomically designed for comfort, function and style. Deliver Superior procedural outcomes with greater ease. Stop by Booth #653 to see this brand new innovation, or find online at www.orascoptic.com/xv1.

Booth #957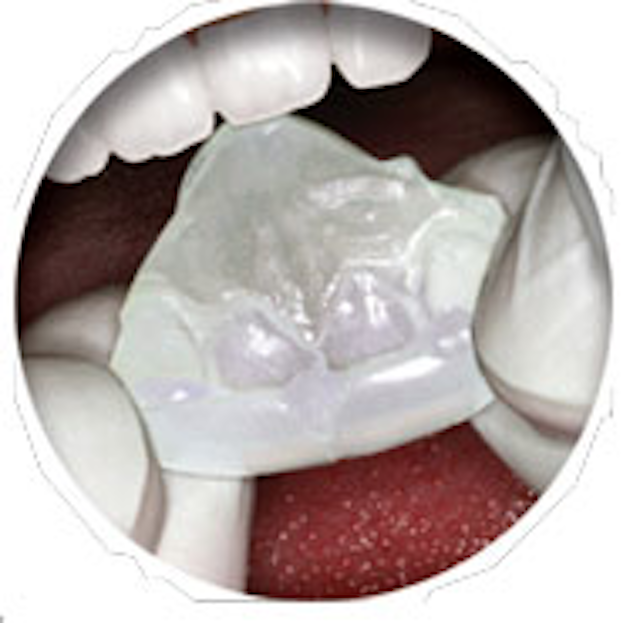 Stop bruxism, clenching, and jaw joint discomfort (TMD) with Keystone's new product, NiteBite®. NiteBite's patented technology utilizes the proprioceptive senses to initiate the jaw opening reflex within the Freeway Space, allowing the jaw to relax at the physiologic rest position. Thus, bruxism stops and its related symptoms are relieved.
NiteBite is designed to fit almost every patient. It can be fit in only five minutes. No impression is required and no second patient visit is needed. So treating your patients with the Nitebite is quick, easy and cost effective. Go to our website www.keystoneind.com for more information.
Booth #2501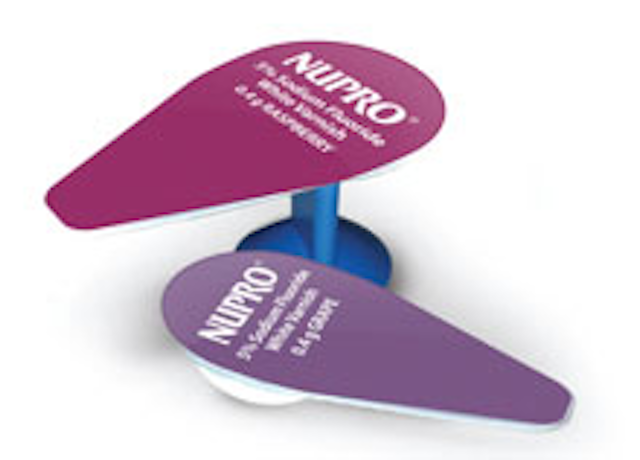 NUPRO® White Varnish is a one-step application that reduces dentinal hypersensitivity by occluding dentinal tubules. This uniquely formulated varnish is designed to deliver key benefits, including high levels of fluoride release in two hours and a shorter patient wear time compared to other leading varnish brands.1 NUPRO White Varnish offers handling characteristics that make it quick and easy for clinicians to apply, including no dripping or stringing and the ability to apply the varnish to a wet tooth.
1Compared to competitive varnishes. Data on File.
Booth #1929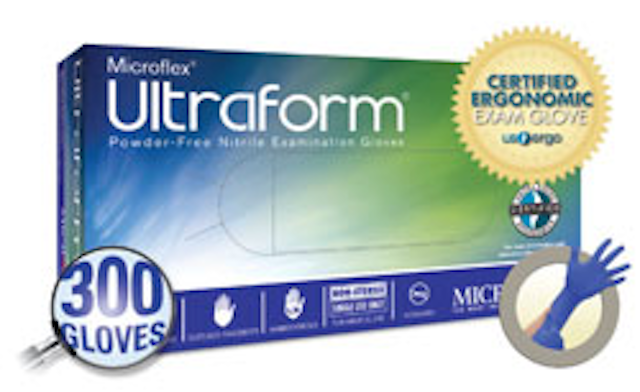 It becomes you. Microflex® Ultraform® Powder-Free Nitrile Exam Gloves. Ultraform is the softest and lightest-weight glove on the market today. In field tests, users actually experienced an increase in fine motor task performance. You have to feel how this feels. Learn more at BetterThanSkin.com

Booth #3039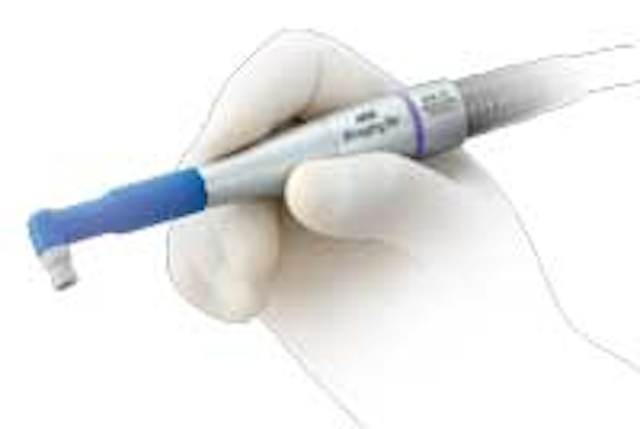 iProphy Air is a hygiene handpiece that is smoother, quieter, shorter, lighter and easy-to-use compared with its competitors. The improved ergonomic design is 15% lighter and 10% shorter than competitive handpieces to provide better balance and reduce hand fatigue. Patients will be more comfortable, since the handpiece incorporates NSK's micro machining technology that dramatically reduces noise and vibration. In addition, a unique two-part construction allows for just the nosecone portion to be sterilized for proper disinfection and compliance. iProphy Air works with any standard disposable or metal angle. For more information, visit www.nskdental.us.
Booth #728
Paradise Dental Technologies is proud to announce that the Montana Jack® sickle scalers will now be available in pink, the Montana Jack® Breast Cancer Pink (R138BC). Jack goes pink for the cure!

Pink Jacks are being offered to support campaigns to raise funds for Breast Cancer Awareness. PDT will donate $1.00 to the American Cancer Society for every pink Montana Jack sold.
The one and only Montana Jack® is arguably the most widely-recognized trademarked hand instrument in the world and has become the favorite of both dentists and hygienists. It is 100% made in the USA by Paradise Dental Technologies. Jack is ultra-light, thinner, tougher, harder and sharper than all the rest.
Visit www.pdtdental.com or call 800-240-9895 for more information on the Montana Jack® Breast Cancer Pink (R138BC) instrument.
Booth #611

GC America Inc. is excited to announce a new fresh mint flavor for MI Varnish, a 5% sodium fluoride varnish with RECALDENT (CPP-ACP). MI Varnish is unique compared to all the other fluoride varnishes; MI Varnish with RECALDENT (CPP-ACP) brings bio-available calcium, phosphate and fluoride to the tooth surface, releasing high levels of fluoride. Working in concert with sodium fluoride (NaF) and RECALDENT in MI Varnish is a wiser clinical choice for the treatment of hypersensitive teeth.
For more information on GC America and its complete product line, please visit www.gcamerica.com.

Booth #2057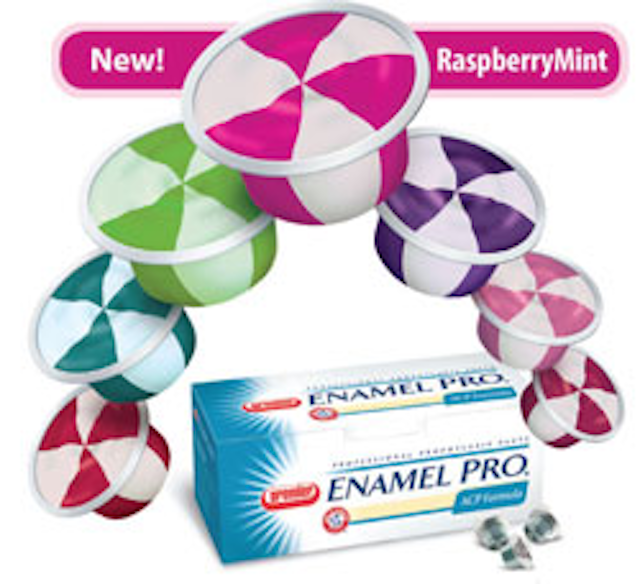 Enamel Pro®
Three minty flavors, one lustrous smile!
Premier Dental's Enamel Pro® prophy paste offers the most comprehensive mint selection in the market; original Mint, subtle VanillaMint and new fruity RaspberryMint -- three great refreshing finishes! Additional flavors include strawberry, cinnamon, bubblegum and grape. Each is gluten-free and available in multiple grits.
Each cup of Enamel Pro prophy paste creates a lustrous enamel surface when Amorphous Calcium Phosphate (ACP) fills in surface enamel crevices and defects leaving your patients with an intense polish and shine.
Available through your authorized dealer.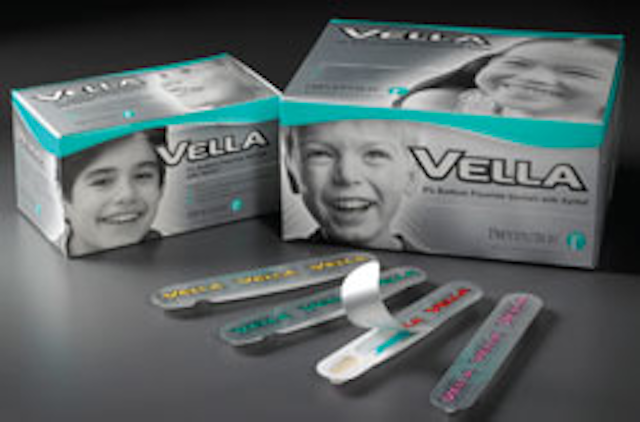 Booth #2709
Vella®, the 5% sodium fluoride varnish with Xylitol that eliminates the lumps and clumps that can slow down a varnish application, is now available in bubble gum. Preventech's Vella technology allows you to apply more product, more quickly, for a faster thin-layer application. Ideal for encouraging patient compliance. With unsurpassed fluoride uptake! Plus, Vella sets quickly in contact with saliva and dries clear! Also in spearmint, strawberry, and melon. Ask your dealer for Vella or obtain a free sample at www.preventech.com or by calling 800-474-8681.

Booth #948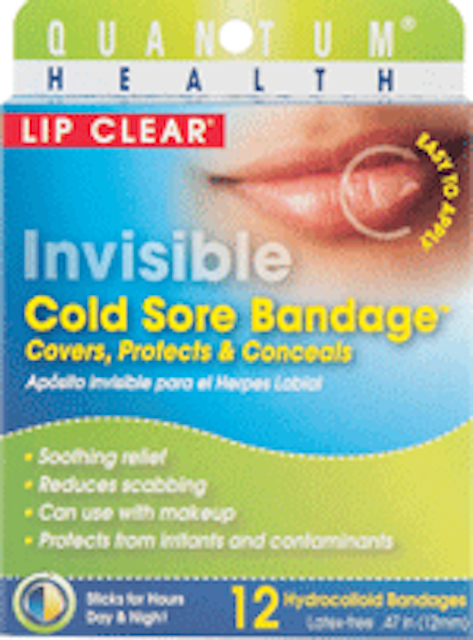 Lip Clear Invisible Cold Sore Bandage is a clear, hydrocolloid bandage that is applied directly to a cold sore. It adheres easily, protects the sore from irritants and contaminants, helps conceal the sore (when used with makeup), and promotes fast blister healing.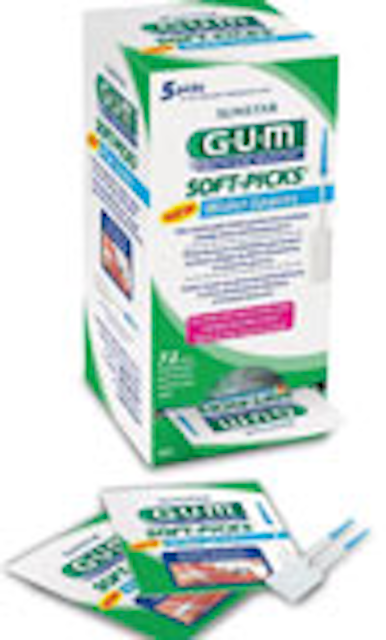 Booth #1151
Introducing GUM® Soft-Picks® for Wider Spaces. Most patients have a variety of spaces between their teeth, from tight contacts to wide embrasures. GUM® Soft-Picks® feature soft bristles that remove plaque while massaging the gums, and now Soft-Picks® for Wider Spaces are 25% wider to better fill those larger areas. Sunstar Americas' Soft-Picks are an effective, easy-to-use tool to help increase patient compliance and health. Additionally, the absence of metal parts makes Soft-Picks a great option for patients with implants, orthodontics or other dental appliances.

More RDH Articles
Past RDH Issues