Product Report
Environmental hazards in the workplace are a serious concern.
Jan 1st, 2001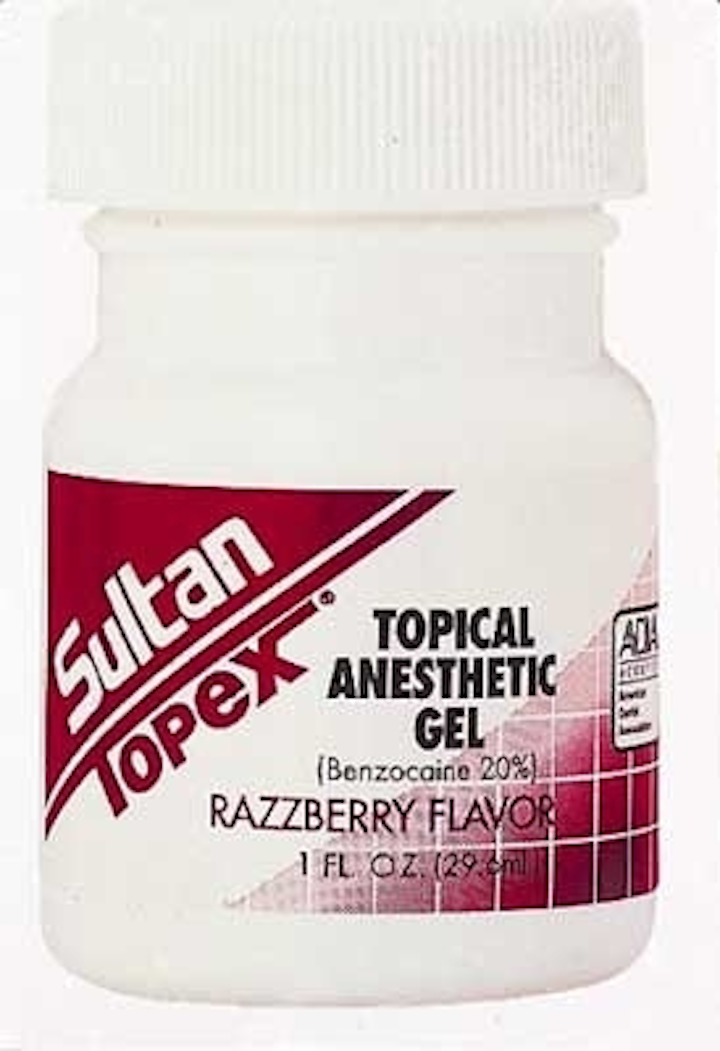 Dentsply forms 'Professional' division
Dentsply International today announced the creation of a new division formed by the merger of two of its business units. The merger of the company's Preventive Care and Midwest divisions became effective January 1, and the consolidation formed the Dentsply Professional division.
The new division is responsible for several of Dentsply's brand names, including Cavitron®, Nupro®, Delton®, Sani-Tip®, Tradition®, Quiet-Air®, Shorty®, Rhino®, Air TouchTM and Midwest burs.
In addition, the division features six dental hygienists who conduct ADA and AGD-certified product training for the dental professional.
For more information, contact Dentsply Professional at (800) 989-8826 or visit www.professional. dentsply.com.
Razzberry flavor added
Sultan Dental Products has added Razzberry flavor topical anesthetic to the expanding Topex® family. The new Razzberry flavor's quick onset delivers maximum strength 20 percent Benzocaine for fast, temporary relief of pain. Topex® Razzberry has no bitter aftertaste - so it stays active without being washed away from excess salivation.
Razzberry Topex® Topical Anesthetic is available with a free offer - buy any 5 Topex® Topical Anesthetics, get 1 free!
For additional information on Razzberry or any of the Sultan Dental products, call (800) 238-6739, or visit Sultan Dental Products at www.sultandental.com.
Prophy Max is multi-purpose
The Prophy Max combines a piezoelectric ultrasonic scaler and an air polisher into one unit. A single knob selects one of four modes used to perform multiclinical dental applications (scaling, endodontics, and periodontics) as well as complete prophylaxis. Equipped with a sterile irrigation system, the ergonomically designed and efficient Prophy Max will restore teeth to their natural shine.
For more details, call Satelec, Inc. at (800) 289-6367.
It's your self-defense
Environmental hazards in the workplace are a serious concern. When the danger of harsh chemicals and toxic and contaminated substances is part of the daily routine, Skin BarrierTM by Oxyfresh is your best defense. This exclusive skin cream is a proprietary formula that protects by creating an invisible barrier to help seal and guard the skin from harsh elements. Skin BarrierTM contains eight barrier ingredients to protect the skin up to four hours. When applied to your hands, moisturizing agents penetrate while harsh chemicals are screened out.
Skin BarrierTM protects skin from chemicals, solvents, soaps, detergents, acids, alkalines, latex gloves, and glove powder.
For more details, circle the number below.
Blueberry Blast fluoride gel
Biotrol International announces its newest Perfect Choice® APF Gel flavor - Blueberry Blast.
Perfect Choice® APF Gels are formulated for rapid uptake in the prevention of dental caries without acidic aftertaste. Other flavors include: Creamy Marshmallow, Juicy Grape, Peppermint Stick, Pink Bubble Gum, Strawberry Delight, Vanilla Orange, Way-Out Watermelon, Strawberry Kiwi, Lemon Lime, Cherry Cheesecake, and Chocolate Vanilla.
Biotrol's Perfect Choice® fluorides include a full line of in-office and take-home treatments. They are available only through authorized dental dealers.
For more details, contact Biotrol International at (800) 822-8550 or visit www.biotrol.com.
Naturals for sensitive teeth
Rembrandt introduces Rembrandt Vanilla Mint and Chamomile Naturals for Sensitive Teeth. It contains a comforting vanilla mint and chamomile formula to help re-lieve pain that is caused by sensitivity. This great-tasting natural vanilla-mint toothpaste is said not only to relieve the pain, but also to defend against recurring pain.
Rembrandt Naturals Toothpastes are available in three other botanical ingredient combinations and fresh, clean flavors. The "Invigorating" formula contains stimulating raspberry leaf and refreshing mint with antioxidant ginkgo. The "Freshening" formula contains stain-dissolving papaya and revitalizing ginseng with antiseptic lemon balm. The "Soothing" formula contains aloe vera, echinacea (believed to boost resistance) and goldenseal (believed to support the immune system).
Rembrandt Naturals Toothpaste for Sensitive Teeth is available at food, drug, and discount stores nationwide. Consumers may also order from www.rembrandt.com.
Premier SafeMask?: The ultimate protection
The Premier SafeMask® provides the ultimate protection with unbeatable comfort. Features include: fluid-resistant inner and outer layer; adjustable nosepiece; and a unique, shingle-pleats design to prevent fluid pooling and cross-contamination. Color choices include blue, pink, yellow, and green. Each box contains 50 masks.
Call Medicom to receive a sample of your favorite style and color. Mention this ad and receive a special promotional offer for the SafeMask® Premier Earloop - Buy 2: Get 1 Free.
For more details, call Medicom, Inc. at (800) 435-9267 or visit www.medicom.ca.
Preserve toothbrush for kids
Recycline toothbrushes are made of 100 percent recycled plastic. The Preserve Jr. is a Preserve toothbrush for kids. It features a curved and pea-pod-shaped handle that is designed to help children's smaller hands brush comfortably and effectively. Kids also find the pea-pod-shaped handle fun to hold on to.
The bristles are made from virgin nylon, are end-rounded, and are extra soft to be gentle on teeth and gums - all firmness options are softer than other brushes. The handles also come in a variety of colors.
For more details, contact Recycline at (617) 776-8401.
ArcBrite

Biotrol International introduces ArcBriteTM, an in-office lightening product. The required time to complete this chairside application has been reduced by eliminating some of the time-consuming steps commonly associated with other lightening systems.

Pre-mixed, pre-measured, and pre-loaded syringes in the ArcBriteTM system eliminate difficulties often associated with powder/ liquid systems.

The application process is easy and permits the dental clinician to deliver both materials directly from the kit to the patient's dentition - it's that simple!

For more details, contact Biotrol International at (800) 822-8550.

Looking for a dye-free, latex-free mask?

SofSkin Safemask® is designed to assist those professionals who are latex-sensitive or dye-sensitive. SofSkin Safemask® is available only in white (dye-free). Each box contains 50 masks. Medicom products are available through your dental distributor.

Call Medicom to receive a sample. Mention this ad and receive a special promotional offer for the Safemask® Premium Earloop -buy 2: get 1 free.

For additional product information, call Medicom, Inc. at (800) 435-9267 or visit www.medicom.ca.

Survey says ... Zilactin is #1

A survey of 65,000 pharmacists nationwide indicates Zilactin® nonprescription medicated gel as the No. 1 U.S. pharmacist-recommended over-the-counter treatment for both cold sores and canker sores. Ailactin® has held the top spot in the canker-sore category since 1995, but this is the first time Zilactin® has received the top ranking for both canker and cold-sore categories. Zilactin is market by Zila Pharmaceuticals.

For more information, circle the number below or contact your sales representative.