The innovation of the RDHAP
California's alternative practice hygienists find unique ways to serve those in need
Feb 13th, 2015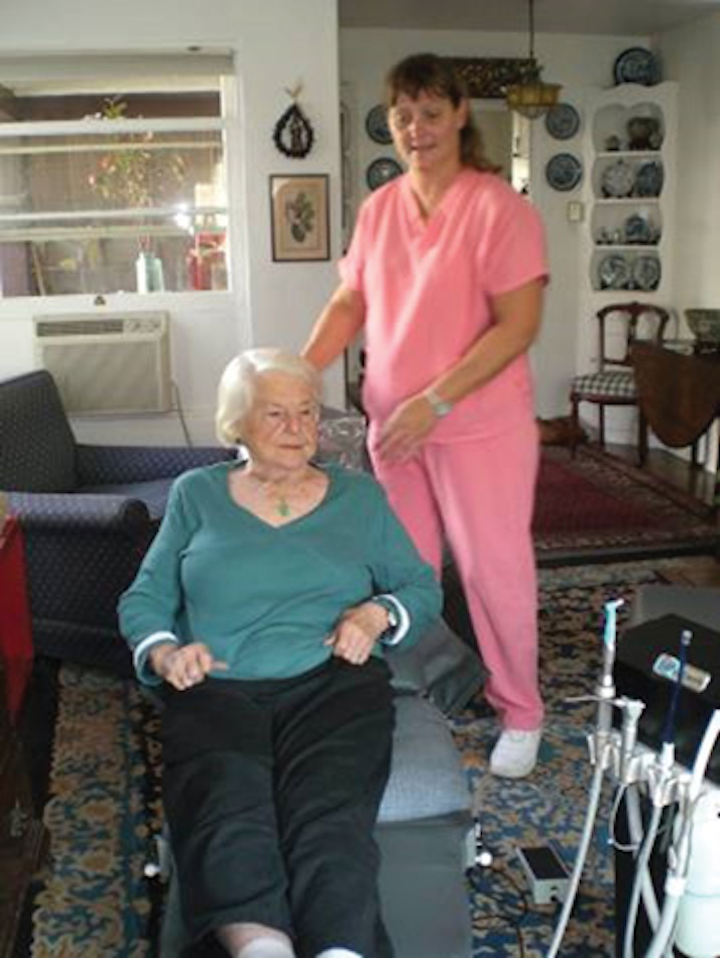 California's alternative practice hygienists find unique ways to serve those in need
BY Christine Nathe, RDH, MS
Just like Dr. Fones stated in the preface of his third edition of "Mouth Hygiene," "The actual results secured by dental hygienists in private and public service, particularly in public schools, affords incontrovertible proof of the value of this type of preventive dentistry." He goes on to emphasize, "Those who may still be skeptical are finding it difficult indeed to suggest any other means by which similar good results can be accomplished for large groups of people." 1 His statements eloquently propose that preventive dental care (dental hygiene) is a logical way to prevent disease and maintain health, and after only a decade, Dr. Fones witnessed these results on a fairly large scale.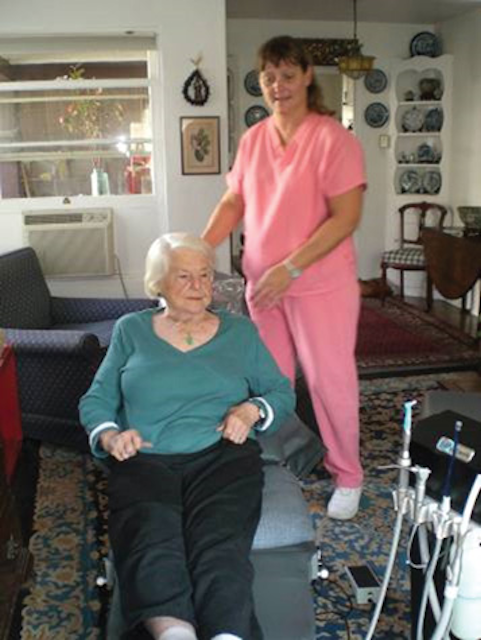 Cindy Simpson, RDHAP
The premise of his thoughts to those who were skeptical about dental hygiene at its inception still ring true to those who are skeptical of the RDHAP movement in California. This movement in California has been described in numerous articles in RDH over the years, but as a refresher, alternative practice seeks to promote the practice of dental hygiene by allowing dental hygienists to practice without a dentist having to be physically present during dental hygiene treatment.
An RDHAP may perform allowable services for a patient who presents ​for treatment​. However, 18 months ​after that initial visit, the patient must have a written prescription​ from a dentist, physician or surgeon​ to continue treatment with the RDHAP.2
----------------------------------------------
Other articles by Nathe
----------------------------------------------
From the first steps toward dental hygiene autonomy taken by Linda Krol in 1978, dental hygienists in California have come a long way. There are now many dental hygienists operating their own RDHAP clinical initiatives. What is interesting is that these entrepreneurial dental hygienists are truly serving the underserved in California. Their practices focus on reaching out to those who have difficulty traveling to dental offices. This means that these dental hygienists are treating patients in their homes, nursing homes, group facilities, and assisted-living homes, to name a few settings.
Karine Strickland, RDHAP, president of the California Dental Hygienists' Association, has a practice that focuses on serving those with special needs. One of her patients recently woke up at 4 a.m. the day before his appointment because he was so excited to see her, his RDHAP. Serving those in need comes with many benefits. Just imagine a patient with that much value for dental hygiene treatment!
Susan McLearan, RDHAP, says it is very enlightening to work in a skilled nursing facility associated with her district hospital. When she provides care, she can see that those who were comatose or nonresponsive feel better after periodontal debridement. Imagine making such a difference to someone by alleviating infection and thus decreasing pain.
Judy Boothby, RDHAP, who was the first dental hygienist granted the RDHAP license (License No. 1), practices on those who have difficulty accessing care. She now inspires dental hygienists around the world to develop practices aimed at increasing access to care for all. Imagine a leader that took the effort to help create a practice is now educating others to do the same.
Kimberly Cruz, RDHAP, a more recent graduate, wanted to become an RDHAP since she attended dental hygiene school. She now operates a practice that focuses on treating those who are homebound and have difficulty accessing private dental offices. Imagine that a dental hygiene student can consider options for those with aspirations outside of the typical dental setting.
Cindy Simpson, RDHAP, has a niche in private homes for people who are homebound, and she also practices in nursing homes. She holds a Master of Science Degree in Dental Hygiene from the University of Michigan and has had a variety of career positions in dental hygiene, including dental education, dental sales, and public health. She continues to serve on various coalitions to provide education for caregivers. Imagine that, a dental hygienist having career opportunities with advanced education, and subsequently increasing access for those in need.
One common thread among RDHAPs is that true dental hygiene entrepreneurs feel the need to become involved. Most of these business owners are involved in their professional associations, and all seem to be involved in their communities. Being involved is the best way to develop and implement solutions, which is exactly what these RDHAPs have done! They have found a way to treat those who have difficulty accessing the traditional dental office.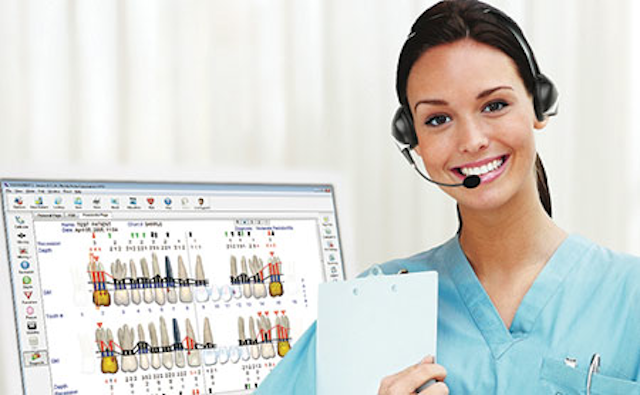 Karine Strickland, RDHAP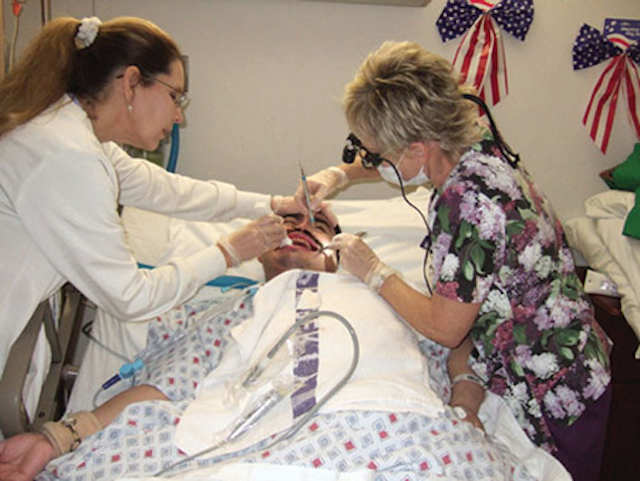 Susan McLearan, RDHAP
Interestingly, Heidi Coggan says that her practice, which focuses on treating patients who are no longer able to visit a traditional dental clinic and may live in private homes or assisted living facilities, relies heavily on referrals from local dentists who have been very supportive and encouraging. Imagine that, dentists promoting the practice of dental hygiene outside of the typical dental practice to increase access to care.
According to the Dental Hygiene Committee of California, a licensed RDHAP can practice as:
• An employee of a dentist
• An employee of another registered dental hygienist in alternative practice
• An independent contractor
• A sole proprietor of an alternative dental hygiene practice
• An employee of a primary care clinic or specialty clinic
• An employee of a primary care clinic
• An employee of a clinic owned or operated by a public hospital or health system
• An employee of a clinic owned and operated by a hospital that maintains the primary contract with a county government to fill the county's role.2
Additionally, they may perform the duties established in the following settings:
• Residences of the homebound
• Schools
• Residential facilities and other institutions
• Dental health professional shortage areas2
The success of these dental hygienists in the public health setting is inspiring. Dental hygienists collaborating with dentists to provide preventive care to patients, while bringing those in need of dental care to dental offices, is a logical niche for dental hygiene, and was actually the idea of the founder of dental hygiene.
These successes signify that eventually most will realize that promoting the practice of dental hygiene benefits everyone. Just as Dr. Fones noted, there may be skeptics, and it may take time, but eventually the majority will agree on the effectiveness of dental hygiene practice. Those who thought the RDHAP movement in California would not prove helpful in promoting dental public health initiatives are probably pleasantly surprised. These recent interviews with several RDHAPs in California and their careers tell a different story. What a great solution to increasing access to dental hygiene care! RDH
---
CHRISTINE NATHE, RDH, MS, is director at the University of New Mexico, Division of Dental Hygiene, in Albuquerque, N.M. She is also the author of "Dental Public Health Research" (www.pearsonhighered.com/educator), which is in its third edition with Pearson. She can be reached at cnathe@salud.unm.edu or (505) 272-8147.
References
1. Fones AC. Mouth Hygiene. 3rd Edition. Philadelphia: Lea and Febiger. 1927.
2. http://www.leginfo.ca.gov/cgi-bin/displaycode?section=bpc&group=01001-02000&file=1900-1966.6 Retrieved on March 5, 3015.